Village
Reporter Smurf
Reporter Smurf is unlocked early in the game at level 8. Papa will ask you to send so some smurfs to get him back to the village. Once he has come to your village, you can tap on him for a daily reward. the reward can very from

,
,

,
, and

. If you have a Twitter account, you can get bonuses for sharing Reporter Smurf's scoops on your Twitter account. You can even get a

as a bonus for sharing!
Editor Smurf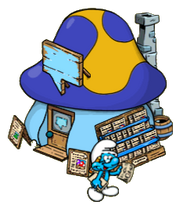 Unlike Reporter Smurf, Editor Smurf is stationary. You can place his hut, which costs 8000

. Once his hut is placed, there will be an option to upgrade his hut for 15

, this upgrade increases Repoter Smurf's daily reward by 15%. You can also read his newspaper that has all the information from the new things in the current update.